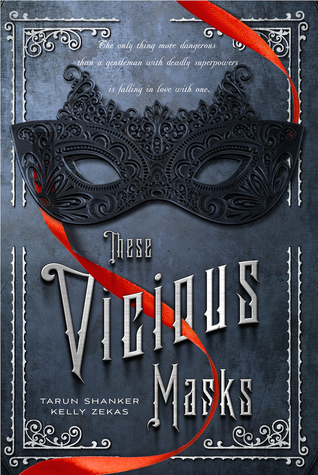 ABOUT
Title: These Vicious Masks
Author: Tarun Shanker & Kelly Zekas
Series: These Vicious Masks #1
Publisher: Swoon Reads
Release Date: February 9th 2016
Synopsis:
Jane Austen meets X-­Men in this gripping and adventure-­filled paranormal romance set in Victorian London.

England, 1882. Evelyn is bored with society and its expectations. So when her beloved sister, Rose, mysteriously vanishes, she ignores her parents and travels to London to find her, accompanied by the dashing Mr. Kent. But they're not the only ones looking for Rose. The reclusive, young gentleman Sebastian Braddock is also searching for her, claiming that both sisters have special healing powers. Evelyn is convinced that Sebastian must be mad, until she discovers that his strange tales of extraordinary people are true—and that her sister is in graver danger than she feared.
I was told I'd get all the feels with this book and my god.
These Vicious Masks is a historical fantasy novel centering around the Wyndham sisters - Evelyn and Rose. Together, they were known for their "hobby" for nursing and healing despite the fact that it was looked down upon in society. Things turn south when Rose is kidnapped for her apparent healing powers, which sends Evelyn on a journey to London to find her sister.
I really enjoyed this novel! I adore historical fantasy and historical fiction and it was definitely fun to read about the sisters in this period. The setting really allowed these characters to shine in their own way.
Evelyn is a headstrong character who would do anything for her sister, even if she got hurt in the process. She has an incredible strength of will that both holds her back at points and is also what allows her to keep going. It is this characteristic of hers that really has me admiring her. Her easy relationship with Mr. Kent was fun and I definitely savoured the bits she had with Mr. Braddock. God, they were slow and burning and utterly delicious.
Speaking of Mr. Braddock, he is definitely the tortured, brooding love interest. He's definitely got his reasons to be tortured and brooding and thank goodness he's definitely not doing it as an act. Otherwise, I wouldn't be as interested in him as I am. He has his own motives for looking for helping Evelyn look for Rose and he has secrets that make him interesting and dimensional.
I really enjoyed reading about the people with powers and all that they could do. It's definitely sort of X-men style (as toted in the description), sans the costumes of course. I'm excited to read the next book and hopefully learn about how these powers came to be and of course about the nefarious interests of people with their own goals of harnessing these powers.
The book is also toted as Jane Austen-y and I can't really say anything about that bit, since I (gasp) have never read any Jane Austen. The ending had me both aching and excited. I definitely had some feels about it as I was warned by Heidi Heilig and it left me wanting for the next book asap!
These Vicious Masks is a fun and exciting historical fiction piece with extraordinary powers and extraordinary characters. I highly recommend this novel for those who are interested in historical fantasy novels.
Happy Reading!