Hellooooooo!
I'm so excited to be a part of the Into the Dim Blog Tour for Raincoast! To start off, I had the chance to ask Janet a question and I couldn't resist, so here it is:
What are your favourite time travel stories (tv shows, movies, books, etc.)?
Janet
Well, obviously…my very favorite is OUTLANDER. Diana Gabaldon is my hero, and I'm fortunate enough to call her a friend. It meant the absolute world to me that she liked 'Into The Dim' enough to grace the cover with her blurb. She doesn't do that for many books, so the day I got that news was one of the best days of my life! A lot of people don't realize that she first wrote Outlander over twenty years ago. But over time, she's brought historical time travel back in a huge way. And now, with the show…it has become a MAJOR trend, especially in YA. I feel very fortunate that not only is 'Into The Dim' a forerunner of that trend, but also is the only one to have the 'Queen of Time Travel's' stamp of approval.

Naturally, I am also a HUGE Whovian! I've been watching Dr. Who since I was a kid, waaaay back in the Tom Baker days. (Yikes! Dated myself a bit there, huh?) I gotta say, though, Peter Capaldi is ROCKING the doctor!! I ADORE him! (And his eyebrows!)
Review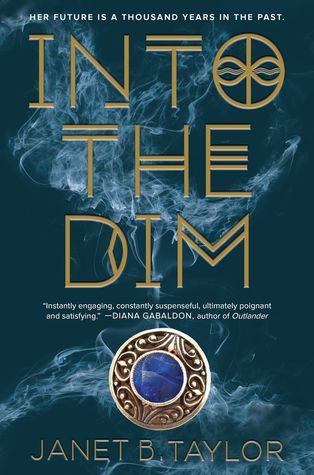 ABOUT
Title:
Into the Dim
Author:
Janet B. Taylor
Series:
Into the Dim #1
Publisher:
HMH Books for Young Readers
Release Date:
March 1st 2016
Goodreads Page
Synopsis:
When fragile, sixteen-year-old Hope Walton loses her mom to an earthquake overseas, her secluded world crumbles. Agreeing to spend the summer in Scotland, Hope discovers that her mother was more than a brilliant academic, but also a member of a secret society of time travelers. Trapped in the twelfth century in the age of Eleanor of Aquitaine, Hope has seventy-two hours to rescue her mother and get back to their own time. Along the way, her path collides with that of a mysterious boy who could be vital to her mission . . . or the key to Hope's undoing. Addictive, romantic, and rich with historical detail,Into the Dim is an Outlander for teens.
INTO THE DIM is a time travel novel revolving around Hope Walton, a phobia ridden 16 year old filled with grief over losing her mother to an earthquake. However, as she faces her fears and takes a plane to Scotland to meet her mother's family, she realizes that her mother is not dead, but in fact lost in 12th century London after a time travel trip gone wrong. Hope learns about her family's time travelling ways and makes it her mission to find her mother and bring her home, despite her many fears.
I have to admit, the first hundred chapters or so, I was bored and just sort of muddling through the pages. I mean it's a novel about time travel and I just wanted the history to start already! It may just have been me, because I'm very much into action sequences and for things to be happening. However, I understand the need for this bit in order to set up the character of Hope and her circumstances.
One of the things I love about time travel stories is learning the limitations of the system put forth and how those limitations factor into how the story plays out. The whole secret society of time travellers intrigued me and I really enjoyed how the history of the time travelling and limitations were laid out clearly in the beginning.
Once the time travelling happened and they went back to the 12th century, I was definitely more interested in the story. I love that it was written with what seems like a lot of research. (I'm no expert in 12th century London, so I have no idea if some of the things are historical truth or not.) There wasn't any romanticizing of the time period as there sometimes is in stories and there's a particularly vivid scene in the novel where Hope describes the terrible smells of the city. (Gross)
Hope is ridden with phobias that she's developed and she learns to face her fears out of pure necessity as she is thrust into this world of time travel and the need to rescue her mother. She has an eidetic memory and I love how it was described when she remembered things as sort of like holographic diagrams in her vision. I imagine it sort of like the way Cassandra from The Librarians sees her equations.
And while Hope was interesting, I thought Bran Cameron is a much more interesting character. He's a mysterious boy with one blue and one green eye, that Hope accidentally encounters when she goes out for a horse ride. He's mysterious and interesting and I can't really say more than that because he's pretty integral to the plot.
As the story's pace picked up, so did the action and oh boy did it move. I was flipping the pages, the fight scenes playing out in my head. There were definitely some scenes and reveals towards the end I did not see coming. I look forward to seeing these new discoveries being addressed in the next book and also more of the time travel system!
INTO THE DIM is a fun, action packed historical time travel novel that has interesting characters and great historical detail. It's a story I can easily see being adapted into a tv series with (hopefully) lots of detail in the historical accuracy.
Follow the Tour!
Happy Reading!