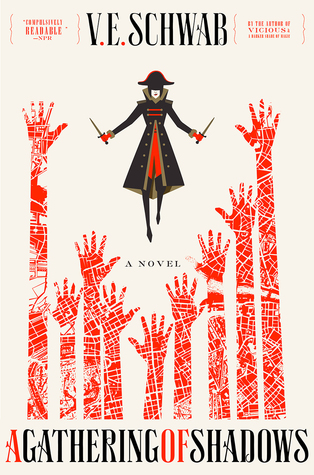 ABOUT
Title: A Gathering of Shadows
Author: V.E. Schwab
Series: Shades of Magic #2
Publisher: Tor
Release Date: February 23 2016
Synopsis:
Four months have passed since the shadow stone fell into Kell's possession. Four months since his path crossed with Delilah Bard. Four months since Rhy was wounded and the Dane twins fell, and the stone was cast with Holland's dying body through the rift, and into Black London.

In many ways, things have almost returned to normal, though Rhy is more sober, and Kell is now plagued by his guilt. Restless, and having given up smuggling, Kell is visited by dreams of ominous magical events, waking only to think of Lila, who disappeared from the docks like she always meant to do. As Red London finalizes preparations for the Element Games—an extravagant international competition of magic, meant to entertain and keep healthy the ties between neighboring countries—a certain pirate ship draws closer, carrying old friends back into port.

But while Red London is caught up in the pageantry and thrills of the Games, another London is coming back to life, and those who were thought to be forever gone have returned. After all, a shadow that was gone in the night reappears in the morning, and so it seems Black London has risen again—meaning that another London must fall.
*screams* WHYYY. OMYGOD.
Let me just gather my feelings here for a moment.
A GATHERING OF SHADOWS is stellar. It's an incredible sequel set in a world that is just built incredibly. I loved the first book. I loved meeting the characters and being introduced to the different worlds that V.E. Schwab has created for these novels. However, I love this book even more.
Where do I even begin with this book? A Gathering of Shadows starts off four months after the events of A Darker Shade of Magic and they are still feeling the aftereffects of those events, some more than others. However, London is preparing for the Element Games and this event brings Lila back to Rhy and Kell again and in unexpected ways.
In this novel, we get to meet Alucard Emery, who plays a pretty significant role. He's a charming and mysterious captain of the Night Spire, the ship that Lila has stolen away on. He has easily become one of my favourite characters in this book and I look forward to reading more of him. There was also Jinnar, who's a pretty minor character in the book, but I was very excited to meet him when V posted on twitter that he was inspired by TOP from Big Bang.
V has a great track record of creating these characters that are captivating and interesting. So while the plot is great and has me drawn in, I'm super invested in these characters that she's created and I find myself hurting when they hurt and squealing when something particularly steamy happens (*wink*).
The entirety of the book has just been me saying, "Oh no, my poor baby" at the characters. Despite the distraction of the magic and the Games, there's still the repercussions from the events of ADSOM and they're no longer the (somewhat) innocent little darlings from ADSOM.
A Gathering of Shadows was hard to put down because I'm so emotionally invested in these characters and it seemed like something was happening on every page. This novel is a spectacular sequel and I absolutely need the third book in my hands NOW because I need more and also because that ending has me a little broken inside. I love this series and it may just become a classic due to word of mouth, because everyone I know who has read this book has spread their love for A Darker Shade of Magic.
Happy Reading!