Helloooooo my lovely people! I'm so excited to be a part of this blog tour because I'm so in love with this series and I'm so incredibly excited to celebrate this series, this novel and to spread the love.
When I first read the questions for this blog tour, I was sent into a momentary state of panic. I mean, how do I choose my favourite literary kiss? There are SO many swoony moments that I love (and I have a terrible memory tbh, so I don't remember specifics very often). However, I just decided to go with a kiss from one of my favourite books of all time.
Anyways, here's some info on The Winners Kiss and also the gorgeous cover. Let's just appreciate the beautiful cover of this book for a moment.
ABOUT
Title: The Winner's Kiss
Author: Marie Rutkoski
Series: The Winner's Trilogy #3
Publisher: Farrar, Straus and Giroux
Release Date: March 29th 2016
Synopsis:
War has begun. Arin is in the thick of it with untrustworthy new allies and the empire as his enemy. Though he has convinced himself that he no longer loves Kestrel, Arin hasn't forgotten her, or how she became exactly the kind of person he has always despised. She cared more for the empire than she did for the lives of innocent people—and certainly more than she did for him.

At least, that's what he thinks.

In the frozen north, Kestrel is a prisoner in a brutal work camp. As she searches desperately for a way to escape, she wishes Arin could know what she sacrificed for him. She wishes she could make the empire pay for what they've done to her.

But no one gets what they want just by wishing.

As the war intensifies, both Kestrel and Arin discover that the world is changing. The East is pitted against the West, and they are caught in between. With so much to lose, can anybody really win?
CAN I JUST WITH THIS SYNOPSIS. This series is awesome and if you haven't read THE WINNER'S CURSE yet, go do it!!!
Anyways, on to the questions!
What book is your favorite literary kiss in?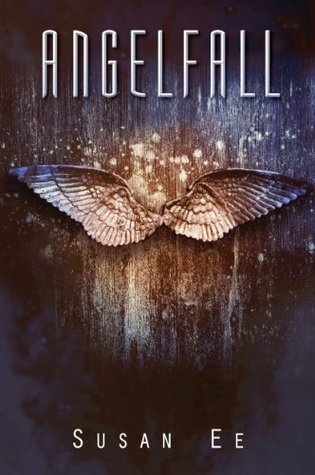 The book that I've chosen is
Angelfall by Susan Ee
! It's one of my favourite books!
Who is kissing?
Raffe and Penryn of course!
Why is it your favorite?
Those two just have this great chemistry and I adore their snarking at each other and course that chemistry and tension culminates in a kiss. ;) I mean. Just read this passage!
I place my hand on his cheek. It's warm and pleasant. Maybe too pleasant. When his eyes don't open, I tentatively touch my lips to his.
At first, I get no response and I consider backing off.
Then, his kiss turns hungry.
It is not the gentle kiss of a couple on a first date, nor is it the kiss of a man driven by simple lust. He kisses me with the desperation of a dying man who believes the magic of eternal life is in this kiss. The ferocity of his grip around my waist around my waist and shoulders, the grinding pressure of his lips, has me off balance so that my thoughts whirl out of control.
The pressure eases, and the kiss turns sensual.
A tingling warmth shoots from the silken touch of his lips and tongue straight to my core. My body melts into his and I'm hyperaware of the hard muscles of his chest against my breasts, the warm grip of his hands around my waist and shoulders, the wet sliding of his mouth on mine.
Then it's over.

(p. 182)
Bonus Question: what kiss do you hope will occur in Marie Rutkoski's The Winner's Kiss?
Arin and Kestrel of course! Omygod do they need to kiss. And while I want them to kiss, I think I wouldn't mind there being no kiss and instead they have a happy ending together. I would be very very satisfied with that. ALL I WANT IS THEIR HAPPINESS.
I decided to share my love of this book with my friend,
Areeba
, from school! She's a book person and I just want her to understand my intense feels over this book because omygodOMYGOD. Thank you to Raincoast and Macmillan for allowing me to share this book with my friend! :D
ABOUT THE AUTHOR
Marie Rutkoski is the author of The Kronos Chronicles, including The Cabinet of Wonders and The Celestial Globe. The Cabinet of Wonders, her debut novel, was named an Indie Next Kids' List Great Read and a Bank Street Best Children's Book of the Year, among other honors. Rutkoski grew up in Bolingbrook, Illinois (a suburb of Chicago), as the oldest of four children. She attended the University of Iowa, where she took Writers' Workshop classes and studied with Pulitzer Prize-winner James Alan McPherson. After graduating, she lived in Moscow and Prague. Upon receiving her Ph.D. from Harvard University, she held dual appointments as a lecturer there in both English and American Literature and Language, and History and Literature. Rutkoski is currently a professor at Brooklyn College, where she teaches Renaissance Drama, children's literature and creative writing. She lives in New York City with her husband and cat.


Happy Reading!