Hello my lovelies!
Today I'm lucky enough to be a part of the blog tour for With Malice by Eileen Cook!
To start things off, let's give you some info on the novel: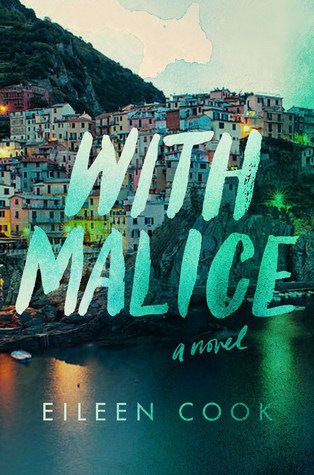 ABOUT
Title:
With Malice
Author:
Eileen Cook
Publisher:
HMH Books for Young Readers
Release Date:
June 7th 2016
Goodreads page
Synopsis:
A read about a teenage girl who wakes up in a hospital bed and cannot remember the last six weeks of her life, including the accident that killed her best friend--only what if the accident wasn't an accident?

Eighteen-year-old Jill Charron wakes up in a hospital room, leg in a cast, stitches in her face and a big blank canvas where the last 6 weeks should be. She comes to discover she was involved in a fatal accident while on a school trip in Italy three days previous but was jetted home by her affluent father in order to receive quality care. Care that includes a lawyer. And a press team. Because maybe the accident...wasn't an accident. Wondering not just what happened but what she did, Jill tries to piece together the events of the past six weeks before she loses her thin hold on her once-perfect life.
I got the opportunity to ask Eileen a question so here it is:
What made you choose Italy as the backdrop for With Malice?
The first draft of the novel took place in Canada. When I finished that version it was missing something. I started to think about my own experiences in university when I did a semester in England. There was something about being away from everything I knew that heightened the sense that my life was changing. That gave me the idea to have Jill be out of the country in the book.

At the time I was writing I was also planning a trip to Italy. I always read books about/or set in the place I plan to go. I came across a few lines on the Amanda Knox case in a book called The Monster of Florence. The way the public rushed to judgment with her gave me the idea to add that wrinkle to the story as well. I went out and got a bunch more books on that case. I would read one where it was clear the writer thought Amanda was guilty and then another where they saw her as innocent. I became fascinated with how the facts could be twisted depending on how you told the story.

I spent twenty days traveling through the same cities as Jill and Simone. I loved being able to use research as an excuse to eat my way through the country and do all the activities I wanted. "It's not that I want more gelato, but I have to figure out which flavor would be Jill's favorite." I fell in love with Italy and would love to go back again. It's truly a magical place.
Review
With Malice is about a girl named Jill who wakes up one day in the hospital with no memory of the last six weeks of her life and with a broken leg. It turns out that she was in an accident in Italy that killed her best friend. However, it turns out that perhaps the accident wasn't really an accident.
This is a book that is an example of the unreliable narrator. The story is told in Jill's point of view from when she wakes up in the hospital to discover her predicament and also as she's recovering from the accident in a physical rehabilitation centre. She has no memory of what happened and also has aphasia which makes it difficult for her to place the word that she wants to say. However, there are bits interspersed between the chapters that are transcriptions of interviews with people in Jill's life and from news broadcasts and justice blogs. All the evidence is pointing towards Jill being the perpetrator and that she killed her best friend.
It was really hard for me to really decide on who I believed, while reading the novel. The media is painting her as a cold person who snuffed out a bright star or a slut or any other number of names. However, while the evidence is pointing towards Jill as the killer, the chapters in Jill's point of view sort of persuade you that this victim of a car crash and a terrible injury could never do something like this to her best friend. With Jill not remembering what happened, it was difficult to really know what was the truth. It kept me flipping the page, anticipating what would come next and what the truth really was.
It's hard not to sympathize with Jill. She woke up without any memory and found herself in this horrible predicament and being accused of murdering her best friend who she knew that she could not have killed based on their history. However, who knows what could have happened in those six weeks in Italy. Jill is one of those students that is always on top of her class and is an over achiever, leading to her acceptance at Yale. She comes from a wealthy, privileged family and has a quiet, introversion to her.
Jill's best friend Simone is a foil to Jill. She's loud, outgoing and charming. She's the popular one of the two and it's their friendship that makes Jill somewhat popular. Her family is not wealthy and struggles for money, leading to Simone not really having any solid plans for post secondary education. She's intelligent but she doesn't really try at school work because she believes that social events and other things are more important. She also has a flair for the dramatic and firmly believes that the end justifies the means.
I really enjoyed this book as a whole. The entire time I had no idea what was going on and who to believe. The book's definitely made me think more about the way media can shape public opinion and this definitely ties into some of the things I learned in my media courses.
You can check out the rest of the blog tour at the different blogs in the graphic below!
Happy Reading!