This series is going to be exactly what it sounds like. I'm notorious among my friends for always buying books but never reading ANY of them. There are so many books that I've bought and have wanted to read, but I never have the time to read them.
So in a response to both my friends and the ever growing stacks of books on my floor, I'm doing The Backlog, in which I review novels that have been out for a while or have just generally been sitting and collecting dust in my room for a while.
The first novel I'm reviewing in this series is THE YOUNG ELITES by Marie Lu!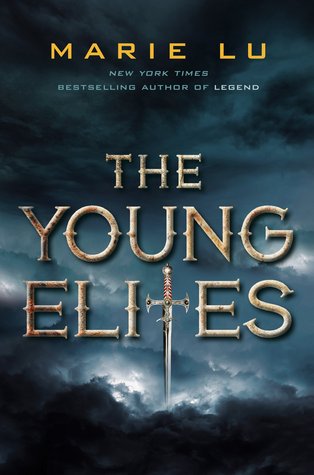 ABOUT
Title:
The Young Elites
Author:
Marie Lu
Series:
The Young Elites #1
Publisher:
G.P. Putnam's Sons Books for Young Readers
Release Date:
October 7th 2014
Synopsis:
I am tired of being used, hurt, and cast aside.

Adelina Amouteru is a survivor of the blood fever. A decade ago, the deadly illness swept through her nation. Most of the infected perished, while many of the children who survived were left with strange markings. Adelina's black hair turned silver, her lashes went pale, and now she has only a jagged scar where her left eye once was. Her cruel father believes she is a malfetto, an abomination, ruining their family's good name and standing in the way of their fortune. But some of the fever's survivors are rumored to possess more than just scars—they are believed to have mysterious and powerful gifts, and though their identities remain secret, they have come to be called the Young Elites.

Teren Santoro works for the king. As Leader of the Inquisition Axis, it is his job to seek out the Young Elites, to destroy them before they destroy the nation. He believes the Young Elites to be dangerous and vengeful, but it's Teren who may possess the darkest secret of all.

Enzo Valenciano is a member of the Dagger Society. This secret sect of Young Elites seeks out others like them before the Inquisition Axis can. But when the Daggers find Adelina, they discover someone with powers like they've never seen.

Adelina wants to believe Enzo is on her side, and that Teren is the true enemy. But the lives of these three will collide in unexpected ways, as each fights a very different and personal battle. But of one thing they are all certain: Adelina has abilities that shouldn't belong in this world. A vengeful blackness in her heart. And a desire to destroy all who dare to cross her.

It is my turn to use. My turn to hurt.
The Young Elites takes place in a world where powers suddenly appeared in children , a la The Darkest Minds style. (a.k.a. there was an illness that killed off children and those who survived gained powers.) Though the novel switches points of view throughout the novel, it focuses on Adelina Amouteru, one of the
malfetto
, or "marked" children who is also one of the rare ones - the Elites - who develop powers.
I really enjoyed the world that Marie Lu has created. I'm always a fan of learning about the different religions that exist within these fictional worlds and the way they correspond to how the Elites' powers react was really interesting. The way that Marie Lu described Adelina's first reaction to Estenzia had me wishing that I could see it as well and really experience it for myself.
Adeline is easily one of my favourite and most interesting characters. She isn't good and she doesn't have that heroic idealism. She has a darkness in her that she can't help, despite her desire to be good. She's interesting and complex and could easily be seen as a villain had the story been written from another perspective. I look forward to reading more of her story in the next book and seeing what her fate has in store for her.
While the plot drove things along, I didn't quite find it as interesting as Adelina herself. It moved at a quick pace, with Adelina often racing against the clock to get things done. There were definitely some things I wasn't expecting and caught me by surprise, which I definitely enjoyed.
Enzo though. ENZO. I also wish I could read more of him.
Otherwise, I thoroughly enjoyed The Young Elites. It's got an awesome main character and a fascinating world that I am excited to read more of.
Don't forget that I have a giveaway going on right now for some swag packs, which is international! You can find the giveaway
here
.
Happy Reading!