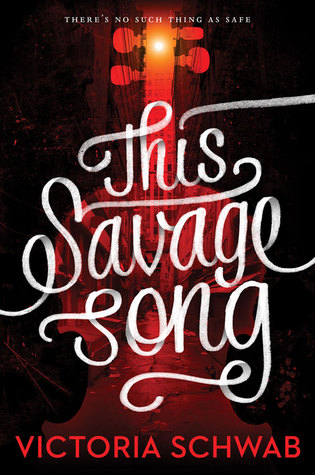 ABOUT
Title:
This Savage Song
Author:
Victoria Schwab
Series:
Monsters of Verity #1
Publisher:
Greenwillow Books
Release Date:
June 7th 2016
Goodreads page
Source:
e-ARC via Publisher
Synopsis:
There's no such thing as safe in a city at war, a city overrun with monsters. In this dark urban fantasy from author Victoria Schwab, a young woman and a young man must choose whether to become heroes or villains—and friends or enemies—with the future of their home at stake. The first of two books.

Kate Harker and August Flynn are the heirs to a divided city—a city where the violence has begun to breed actual monsters. All Kate wants is to be as ruthless as her father, who lets the monsters roam free and makes the humans pay for his protection. All August wants is to be human, as good-hearted as his own father, to play a bigger role in protecting the innocent—but he's one of the monsters. One who can steal a soul with a simple strain of music. When the chance arises to keep an eye on Kate, who's just been kicked out of her sixth boarding school and returned home, August jumps at it. But Kate discovers August's secret, and after a failed assassination attempt the pair must flee for their lives.
Victoria Schwab has an incredible way with words and creating stories that are dark, rich and delicious. And as time passes, she's only getting better.
This Savage Song revolves around Kate Harker and August Flynn. They're on opposing sides of a city divided in two, ruled by their respective families. However August is a monster -- a Sunai, a monster born of great violence and has the ability to reap a sinner's soul with music.
The tentative truce between the Harker and Flynn families is breaking down and the other monsters in the city are becoming restless. It is in their families' conflict that Kate and August become even more entrenched in the embroiling war.
I really love Kate's character. She's tough on the outside and presents the image of being every bit the daughter of the ruthless Callum Harker who rules with an iron fist. However, in reality she is seeking for her fathers approval and acknowledgement. She did crazy and dangerous things in order to be sent home and she'll do nearly anything to gain his approval.
August does not want to be a monster. He doesn't want to be able to steal people's souls, but he doesn't want to die. He simply came into the world fully formed and he doesn't want to simply not exist anymore. He starves himself in order to stop feeling like a monster, but that doesn't help either as he becomes more feverish and becomes a ticking time bomb. He is still trying to figure out who he is and has yet to accept himself as he is. He wants to be good and I think that really counts for a lot.
The plot was a roller coaster, going up and down and I had no idea what was going to happen. It was great and throughout the novel, Victoria Schwab introduced the readers to the history and the world in a very subtle way that I greatly enjoyed, since it wasn't a whole exposition that broke the reader away from whatever was happening in the book.
I'm so glad this isn't a standalone novel. I'm so in love with this world that Victoria's created and also with Kate's character. I can't wait for the next one!
Happy Reading!