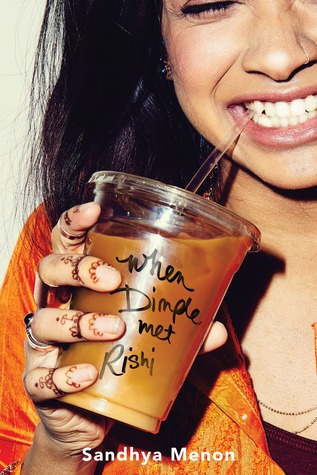 ABOUT
Title: When Dimple Met Rishi
Author: Sandhya Menon
Publisher: Simon Pulse
Release Date:
May 30th 2017
Goodreads Page
Synopsis:
A laugh-out-loud, heartfelt YA romantic comedy, told in alternating perspectives, about two Indian-American teens whose parents have arranged for them to be married.

Dimple Shah has it all figured out. With graduation behind her, she's more than ready for a break from her family, from Mamma's inexplicable obsession with her finding the "Ideal Indian Husband." Ugh. Dimple knows they must respect her principles on some level, though. If they truly believed she needed a husband right now, they wouldn't have paid for her to attend a summer program for aspiring web developers…right?

Rishi Patel is a hopeless romantic. So when his parents tell him that his future wife will be attending the same summer program as him—wherein he'll have to woo her—he's totally on board. Because as silly as it sounds to most people in his life, Rishi wants to be arranged, believes in the power of tradition, stability, and being a part of something much bigger than himself.

The Shahs and Patels didn't mean to start turning the wheels on this "suggested arrangement" so early in their children's lives, but when they noticed them both gravitate toward the same summer program, they figured, Why not?

Dimple and Rishi may think they have each other figured out. But when opposites clash, love works hard to prove itself in the most unexpected ways.
What the fuck this book is so fucking cute.
This story revolves around Dimple Shah and Rishi Patel. Dimple is a headstrong girl with dreams of becoming the next Jenny Lindt (Dimple's idol and creator of a famous app). She doesn't share her mother's interest in her finding the ideal husband, or IIH (Ideal Indian Husband) as she puts it. She is going to MIT in the fall and her time at a summer program for web developers will help her get her career on the right track. Rishi is a romantic and he believes in traditions and the power they hold, so when he's told his future wife will be attending a summer program, he attends as well in hopes of wooing her. However, it won't be quite as romantic as he'd hoped. He is to attend Stanford in the fall for engineering and follow in his father's footsteps. However, his heart just isn't in it, despite his brain telling him it's the practical path. Dimple and Rishi are opposites, but they do say that opposites attract.
This book really spoke to me and I don't know if I've ever connected to characters more. In this book I see myself and the experiences of being a second generation immigrant. The book touches on feeling the need to meet your parents' expectations, or perhaps defying them as Dimple and Ashish (Rishi's younger brother) do. It touches on feeling like you neither belong in the Western world nor your parents' home country. It also touches on trying to embrace Western culture so much in an effort to "fit in" that you try to erase your own culture. All of this, I've felt at one time or another and so this book was a revelation in that I saw my own experiences written down on a paper and in a book that I could definitely have used in my younger years.
Dimple and Rishi are so cute and adorable together. Rishi is a romantic and he's so sweet. His attempts to woo Dimple are so full of effort and adorable that really I'd gladly take him off Dimple's hands if she doesn't want him. Dimple is driven and knows what she wants out of her life. She pushes Rishi for the same and she sees through the facades he puts up sometimes. The two characters are also opposites in some things and it was interesting and hilarious to see them clash.
Overall, I find that this book is a must read. It's cute and romantic with relatable characters and it has become one of my favourite books of all time.
Happy Reading!