So hi peeps! I haven't been posting on the blog, but I have been reading! I didn't write reviews long enough to warrant an entire post so here are all the reviews I've written for the books I've read. I'm sort of out of practice with writing reviews so forgive me if they don't end up being very informative.
ABOUT
Title: The Long Game
Author: Jennifer Lynn Barnes
Synopsis:
The Kendricks help make the problems of the Washington elite disappear…but some secrets won't stay buried.

For Tess Kendrick, a junior at the elite Hardwicke School in Washington, D.C., fixing runs in the family. But Tess has another legacy, too, one that involves power and the making of political dynasties. When Tess is asked to run a classmate's campaign for student council, she agrees. But when the candidates are children of politicians, even a high school election can involve life-shattering secrets.

Meanwhile, Tess's guardian has also taken on an impossible case, as a terrorist attack calls into doubt who can—and cannot—be trusted on Capitol Hill. Tess knows better than most that power is currency in D.C., but she's about to discover firsthand that power always comes with a price.
I remember why I loved the first book, The Fixer, now that I've read the Long Game.
The Long Game is an expansion on the world built in The Fixer, with Tess as the center of the novel. She has become the resident fixer in her school, helping the other students fix their problems, reluctantly. Her school is filled with the who's who of Washington and if problems were huge in normal high school, they'd have a much bigger impact in her school.
This series is so very smart and is comparable to conspiracy thrillers or political thrillers like Scandal. It's a genre that I love and I am so enamoured with the way that the series takes place with a teenager, but gives her agency and power that has a real effect on the world. And despite it being a political thriller, it doesn't dumb anything down for the reader and it has strong female characters who quietly wield a lot of power.
This series is criminally underrated and Mith (@
BiscotttoBooks
) will proclaim our love for this series forever probably. I highly highly recommend this series.
ABOUT
Title:
It Had to be You
Author:
Lizzy Charles
Goodreads Page
Synopsis:
James Parson has a problem. His military dad is going to yank him out of his expensive boarding school if James doesn't prove he's no longer hooking up, pulling pranks, and charming his way out of consequences. What better way to show he's now responsible than becoming the committed boyfriend of a U.S. diplomat's daughter?

Level-headed, book-smart Edelweiss may have traveled the world thanks to her dad's job, but when it comes to friends and boys, she knows exactly nothing. Newly enrolled in boarding school, Edel is now on a mission to learn it all. James says he'll help her experience the ultimate high school life—if she'll be his fake girlfriend. And fake is perfect, because he's exactly the kind of player she'd never date.
If it's one trope I'm almost always down to read, it's the fake boyfriend/girlfriend trope.
It Had to Be You follows James Parson and Edelweiss Lee as they attend an exclusive boarding school. James is the captain of the football team and the popular guy at school. He pulls a lot of pranks at school and it had been the last straw for James and he must show his father, Colonel Parson, that he is serious about school before he pulls him out. Edelweiss is the daughter of a diplomat and has travelled the world and was homeschooled by her parents. She enrols in boarding school so that she can experience the things normal high schoolers do to prepare for the college life.
This was cute. James and Edelweiss had a lot of chemistry and they were super cute together. It was cheesy, but not in a way that was empty. There was substance and depth to the characters and the situations they were in.
This was however, one of those situations where one of the conflicts arises from not talking to each other. Which, if I think about it, is probably a running theme in the fake boyfriend/girlfriend trope. Had they communicated better, the whole climax of the book probably wouldn't have happened.
Overall, it was a short and fun read. I enjoyed the characters and their chemistry and that was what kept me drawn into the novel.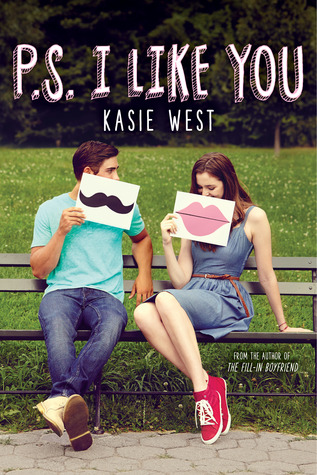 ABOUT
Title: P.S. I Like You
Author: Kasie West
Synopsis:
Signed, sealed, delivered…

While spacing out in chemistry class, Lily scribbles some of her favorite song lyrics onto her desk. The next day, she finds that someone has continued the lyrics on the desk and added a message to her. Intrigue!

Soon, Lily and her anonymous pen pal are exchanging full-on letters—sharing secrets, recommending bands, and opening up to each other. Lily realizes she's kind of falling for this letter writer. Only, who is he? As Lily attempts to unravel the mystery and juggle school, friends, crushes, and her crazy family, she discovers that matters of the heart can't always be spelled out…
P.S. I Like You revolves around Lily, who enjoys music and writes bits and pieces of songs every chance she gets. She ends up exchanging notes with another student who uses the same desk. They share the same tastes in music and through the letters they learn about each other and slowly grow to like each other.
And throughout all of this, Lily is dealing with her own family problems, her crush and her enemy -- her best friend's ex.
I don't really have anything more to say than it was cute, predictable contemporary romance. It's fluffy and sweet and fun. I love Kasie West novels and I look forward to reading her other books.
Happy Reading!