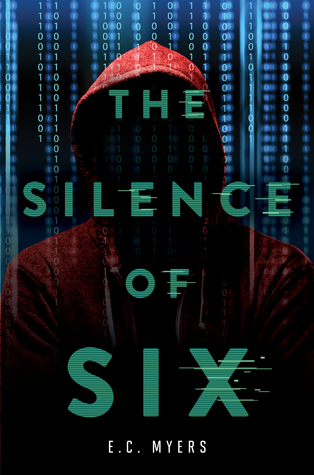 ABOUT
Title:
The Silence of Six
Author:
E.C. Myers
Series:
N/A
Publisher:
Adaptive Books
Release Date:
November 5th 2014
Get it Here:
Indigo
Amazon
B&N
Goodreads page
Source:
e-ARC via NetGalley
Synopsis:

"What is the silence of six, and what are you going to do about it?"

These are the last words uttered by 17-year-old Max Stein's best friend, Evan: Just moments after hacking into the live-streaming Presidential debate at their high school, he kills himself.

Haunted by the image of Evan's death, Max's entire world turns upside down as he suddenly finds himself the target of a corporate-government witch-hunt. Fearing for his life and fighting to prove his own innocence, Max goes on the run with no one to trust and too many unanswered questions.

Max must dust off his own hacking skills and maneuver the dangerous labyrinth of underground hacktivist networks, ever-shifting alliances, and virtual identities — all while hoping to find the truth behind the "Silence of Six" before it's too late.
Whoa. Well that was a hell of a fun ride. I miss reading books like these that are heavy in the hacking world. It was like a cross between Little Brother by Cory Doctorow and Person of Interest, both of which I highly enjoy.
This book is smart and while I didn't understand all of the hacker jargon, I understood some of it and some of it was explained. However, because of the nature of these kinds of books that need quite a bit of explaining to get the point across, there was a lot of dialogue on how the characters would pull this off or there was explaining of how this certain hacking thing is done in the narration. It gets a bit much at times, but I also like that it isn't dumbing anything down for the reader.
I am a huge fan of mysteries and thrillers, especially those that go through the process of how it all happens. And with this one, I really love the mystery and going on the journey with the characters to "save the world." This story actually scared me more than any horror novel, because of how real the possibility something like this would happen.
I thought the characters were quite interesting, especially Penny and Risse. They make some hard choices later in the book and it's commendable of them for being decisive enough to make it.
This book was a really fun read, especially if you love Cory Doctorow books and such.