Hello!
I had the chance to ask Eileen a question in regards to her new novel, The Hanging Girl! Here's some info on her latest novel: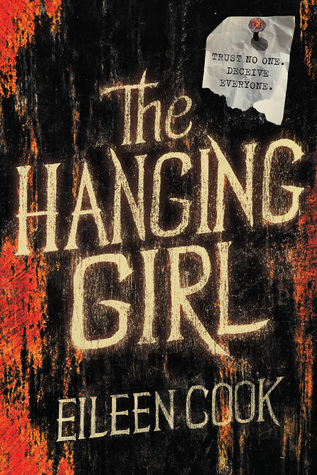 ABOUT
Title: The Hanging Girl
Author: Eileen Cook
Publisher: HMH Books for Young Readers
Release Date: October 3rd 2017
Synopsis:
Skye Thorn has given tarot card readings for years, and now her psychic visions are helping the police find the town's missing golden girl. It's no challenge—her readings have always been faked, but this time she has some insider knowledge. The kidnapping was supposed to be easy—no one would get hurt and she'd get the money she needs to start a new life. But a seemingly harmless prank has turned dark, and Skye realizes the people she's involved with are willing to kill to get what they want and she must discover their true identity before it's too late.
I asked Eileen:
Would you rather find yourself in Skye's shoes or Jill's of With Malice and why? (of course without spoiling anything)
Eileen:
I feel very qualified to say how both Skye and Jill feel as I've been in both of their shoes, or at least inside their heads, while writing the books. My first response is that I wouldn't want to be in either of their shoes. I love to write about characters who find themselves in some horrible situations, and they certainly tend to make things worse by making some bad decisions as they go. (I have a fascination with complicated, messy, mixed-up people.)
In some ways, Jill's situation would be worse in that she has no memory of what happened. She must rely on what she knows about herself and what she hears from other people to figure out events. I can't imagine how horrible it would be to simply not know. On the other hand, I feel terrible for Skye. I've been in her situation, where you tell one lie in the hope that it will make a situation better, and then before you know it starts to snowball and you don't know how to get yourself out of the mess you've made. (Granted, I've never gotten myself into this big of a mess.) If I had to pick one I would pick Jill as being the worse situation as I hate not being in control and for her there is so much out of her hands.
The Hanging Girl revolves around Skye Thorn -- a girl from a small town who gives tarot readings to her classmates. Skye aids the police with the kidnapping of Paige Bonnet, the queen bee of the school, through psychic visions. However, Skye is not psychic. The kidnapping was supposed to be straightforward -- everything would go according to plan and Skye would get the money to start a new life far away from this town. However, when the kidnapping becomes lethal, Skye must find out the truth before anything else happens.
This novel actually got my heart racing. I was flipping the pages trying to find out what happened, engrossed, alongside Skye and every time I thought I had the next plot point figured out, I find that I'm completely wrong or simply caught off guard. There were several reveals in this novel that had me silently freaking out and "OMG"-ing. This novel is a true thriller and so fun to read.
This is the second novel I've read of Eileen Cook's (the first being With Malice) and I find that she is great at creating characters who really get themselves into the mess that the novel revolves around. It's truly of their own making. Nothing is ever as it seems with her narrators and they are somewhat (or even wholly) unreliable. There is also a touch of what was done in With Malice where there are elements aside from the narrator's point of view that gives the readers an idea of what is happening outside of the narrator's knowledge. And while that is outside of the narrator's knowledge, even that information may or may not be reliable.
I don't really want to give away anything about the way this book goes because it's something that you really need to experience. If you're a fan of thrillers, crime shows and the like, definitely give this book a go.
Happy Reading!